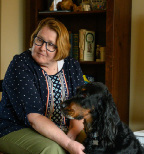 Nancy Neville has been a Wheaton resident for 32 years. Born in LaGrange, IL, Nancy graduated from Illinois State University with a BA in geography, which, she jokes, she never actually used during her business career.
Instead, her love of variety led her to customer service and retail work. Nancy spent 19 years working for Jewel Osco, and an additional 6 years with Whole Foods before recently retiring. "Most people don't like retail, but I loved it. The work is different every day, and the schedule worked great with my family."
Nancy's two children, Sarah and Rob, are grown and married. In April, Rob and his wife, Janelle will welcome their first baby. Nancy is over the moon. "This will be my first grandchild, and I am so excited!"
Nancy and her husband Michael are retired, but they don't let moss grow under their feet. They are both in school; Nancy takes English history classes from the Adult Education program at College of DuPage and her husband is studying photography.
"He gets graded on his projects," she shares with a smile.
Her passion for travel and adventure is contagious. Everything from luxury cruises with her husband to trips to Savannah with girlfriends—she loves it all. "My girlfriend and I drove to South Dakota, and it was wonderful."  Her next big trip will be with her sister Janet to Nova Scotia to see the place her ancestors called home. "Through research, we discovered my grandfather was a sea captain."
Nancy volunteers at the Bartlett food pantry once a week, where she drives the van and picks up food to stock the shelves. At Spectrios, Nancy volunteers once a week helping the business team with ongoing needs and projects. She first learned about the Spectrios mission from her sister-in-law and longtime volunteer, Martha Neville. "I was impressed by how much Spectrios does to help people. And everyone is so nice!" When asked why she continues to give back, she added, "I appreciate the opportunity. Volunteering keeps me young, and it's nice to be around other people."
Thank you, Nancy, for all you do to keep our mission running smoothly. We are proud to have you on our team!