On Giving Tuesday, we are asking for donations for our Seeing is Believing program that benefits visually impaired students through-out Illinois.  This program is entirely funded by donations and grants.  Without your support, we cannot continue the program.
Please consider making a donation on Giving Tuesday to support children with vision loss.
About Seeing is Believing
At the Spectrios Institute, we know that limited vision can mean limited learning for students—but it doesn't have to!
The Seeing is Believing program impacts the lives of 100's of K-12 children every year. Our program is unique because we bring the clinic to the children. We organize vision clinics in school districts throughout Illinois. By offering a local clinic we minimize time away from the classroom for the student. We are also able to work with the school districts in providing the best learning environment for their visually impaired students.
These students are able to see art for the first time because of the devices provided by the Seeing is Believing program.
The clinic provides each child with a low vision exam and optical devices free of charge. These low vision products include magnifiers, telescopes, and high-powered reading glasses. Low vision aids like these are often the only means by which students with vision loss can participate in classroom activities.
This special program is unique to our low vision center and is 100% funded by grants and donations. We need your help so we can continue to bring high-quality vision care to children.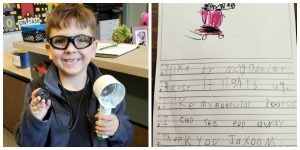 Jaxon is so happy to have his new tools. His Thank You letter says: I like my magnifier because it lights up. I like my monocular because I can see far away. Thank You, Jaxon M.